Are you interested in learning the ropes of starting a blog?
Well, you've come to the right place!
Hey there, I'm Rajesh Rai, a computer science enthusiast and an experienced blogger for over a decade. I've founded platforms like Saatatya, Website Vidya, Content Markup, Factend, Sharestrap, and Kavitayen.
When I first ventured into the world of blogging, I was clueless. I had absolutely no idea where to begin or what it entailed. So, like any determined learner, I began scouring the internet for information, constantly seeking out guides on blogging and making money online.
I even shelled out a few bucks to gain more insights, only to find that most of them required technical skills that were beyond my grasp as a high school student. Needless to say, I found those resources incredibly challenging to follow.
But I didn't let that deter me. Instead, I dedicated myself to improving my technical abilities in areas like website creation, content creation, SEO, and digital marketing. It took me years and a couple of startup ventures to gather all the right information and hone my skills.
Now, I've created this blog with a simple goal in mind: to share all the knowledge and strategies I've accumulated throughout my blogging journey. My aim is to provide you with everything I've learned and implemented so that you too can embark on a path towards becoming a successful blogger.
So, if you're ready to dive into the world of blogging and unlock its potential, stick around. I've got plenty of valuable insights to share with you!
Before you dive into actionable steps for how to create a blog, let me share some valuable facts. This section covers why you should start a blog and blogging 101.
---
10 Biggest Benefits of Blogging
Blogging, the art of sharing wisdom and knowledge, has transformed our lives, making them more intentional, meaningful, and easier. From technology to gadgets, fashion to health, blogs from various niches have woven a tapestry of impact, enlightening us and guiding us towards a brighter path.
Here are the top 10 biggest benefits of blogging, explained:
You will become a better writer

By regularly blogging, you'll find yourself sharpening your writing skills like never before.

It's like a writing boot camp, where you exercise your creativity, explore new styles, and learn to communicate more effectively. Whether you're a beginner or a seasoned writer, blogging will take your skills to new heights.
You will live a more intentional life

Blogging encourages you to live a more intentional life. You start paying closer attention to your experiences, thoughts, and emotions, seeking inspiration for your next post.

It pushes you to reflect on your own journey and share valuable insights, ultimately leading to a more mindful and purposeful existence.
You will meet new people

Say hello to a whole new world of connections! Blogging introduces you to a diverse community of like-minded individuals who share your passions and interests.

You'll meet fellow bloggers, readers, and potential collaborators, forming meaningful connections and expanding your network both online and offline.
You will make some money

Who said blogging can't be profitable?

While it may take time and effort to monetize your blog, it can be a fantastic way to earn some extra cash.

Through advertisements, sponsored posts, affiliate marketing, or even selling your own products or services, you can turn your passion into a potential income stream.

Cha-ching! 💸
You will learn new skills

Blogging is an endless journey of knowledge acquisition. As you dive into various topics for your blog posts, you'll find yourself exploring new ideas, conducting research, and staying up-to-date with the latest trends and developments.

It's a fantastic way to expand your horizons and keep your mind sharp.
You will inspire others

Your blog has the power to touch lives. By sharing your experiences, insights, and lessons learned, you have the ability to inspire and motivate others.

Your words can resonate with someone going through a similar situation, offering comfort, guidance, or even a good laugh. Making a positive impact is what it's all about!
You will become Self-Confident

Through blogging, you'll witness your own growth and evolution as a writer and a person. As you receive feedback, engagement, and recognition from your readers, your self-confidence will soar.

It's incredibly empowering to see your words making an impact and knowing that your voice matters.
It advances your resume

Blogging isn't just a hobby; it's a valuable asset for your professional life.

Employers and recruiters love to see candidates who can effectively communicate, demonstrate creativity, and show initiative.

Including your blog on your resume showcases your skills, dedication, and ability to manage a project independently. It's a standout addition that sets you apart from the crowd.
It boosts your creativity

Blogging provides an outlet for your creative expression. From crafting engaging stories to designing eye-catching visuals, you'll have the freedom to unleash your artistic side.

With each blog post, you'll find yourself brainstorming ideas, experimenting with different formats, and pushing the boundaries of your imagination.
You develop Entrepreneurial skills

Blogging is a crash course in entrepreneurship. You'll learn about content creation, marketing, branding, SEO, social media management, and so much more.

It's a hands-on experience that hones your entrepreneurial mindset, preparing you for future ventures and opening doors to exciting opportunities.
---
Why Are You Starting a Blog?
Do you want to communicate something, like a message or an idea?
Do you want to build a community around your love for a cause?
Do you want to keep your followers and fans updated on what's the latest with your brand?
Do you want to explain how your product or service works and why people should buy it?
A blog can help you inform, educate, promote, and even sell, but only if you are clear about your intention from the start.
Hence, take some time to figure out your message and the purpose of your blog. In the meanwhile, here are several reasons why many people make a blog and enjoy blogging:
To enhance writing and thinking skills
To establish expertise
To increase self-confidence
To network with others in the industry
To make money blogging
There are many ways to make money by starting your own blog; you can sell products and merchandise online or place ads and receive compensation from brands by promoting their products and services – considering that 61% of online customers make purchases based on recommendations from a blog, this could turn into a highly profitable endeavor for you.
📢 Did you know? 61% of U.S. online consumers have made purchases influenced by blog recommendations! 🛍️💻 @impactbnd!Blogs truly have the power to impact our buying decisions.#ConsumerBehavior #BlogPower #InfluenceMatters
Click To Tweet
Blogging has several positive effects on our lives, making them more intentional, meaningful, and easier.
While blogging can bring intentionality, meaning, and convenience to our lives, it's important to note that the extent of these benefits depends on how we approach and engage with the process.
Consistency, authenticity, and a genuine desire to connect with others are key factors in maximizing the positive impact of blogging on our lives.
---
How to Start a Blog: Step-by-step
Here's a step-by-step guide to help you start your own blog. Learn how to choose a niche, select a platform, register a domain, set up hosting, design your site, create compelling content, and promote your blog. Start sharing your thoughts and ideas with the world today!
Unleash your inner entrepreneur with a PROFITABLE blog! Learn how to kickstart a PROFITABLE blog that generates income! 💰 Dive into the step-by-step guide for blogging success: 🔗 Explore now: https://www.rajeshrai.com/how-to-start-a-blog/ 🔥…
Click To Tweet
Step #1: Select a perfect niche for your blog
Before you dive deep into how to start a blog, you must find your perfect niche, figure out your expertise, figure out who your ideal readers are, and figure out how to make it profitable.
In short, niche blogs are the targeted blogs in which you write about one thing and one thing only
Niche blogs are easy to monetize with advertisements and affiliate links, etc., and that is how they become profitable.
Niche blogging allows you to stay on track, grow a reliable audience, expand your knowledge, and monetize your blog.
If you have a particular passion or expertise in a specific niche, starting a blog allows you to share your knowledge, insights, and experiences with like-minded individuals.
It gives you a platform to express your passion and connect with a community of people who share your interests.
Niche blogs attract a specific audience that is highly interested in the topic you are covering. This targeted audience is more likely to engage with your content, share it, and become loyal followers.
By catering to a niche, you can build a dedicated and engaged readership.
Niches typically have less competition compared to broader topics. While it might be challenging to stand out in a saturated market, focusing on a specific niche can give you a competitive advantage.
By providing unique and valuable content, you have a better chance of becoming a go-to resource within that niche.
Niche blogs can be monetized in various ways. Once you establish a strong readership, you can explore options like affiliate marketing, sponsored content, selling digital products or courses, offering consulting or coaching services, or even running advertisements.
With a focused audience, you can tailor your monetization strategies to match their specific needs and preferences.
Blogging in a niche can enhance your personal and professional growth. As you research, write, and interact with your audience, you'll deepen your understanding of the subject matter.
You'll also develop valuable skills such as content creation, SEO, social media management, and community building, which can be transferrable to other aspects of your life or career.
It allows you to connect with other influencers, experts, and enthusiasts within your niche. Through collaboration, guest posting, or participating in online communities, you can build valuable relationships that may lead to new opportunities, exposure, and growth.
Niche blogs have the potential for long-term success.
As you consistently publish high-quality content and establish yourself as an authority, your blog can become a valuable resource that continues to attract new readers over time.
Furthermore, as search engines recognize your expertise and credibility, your blog may rank higher in search results, bringing in organic traffic and further growing your audience.
Remember, starting a niche blog requires dedication, consistent effort, and quality content.
It's essential to choose a niche that aligns with your passion and expertise to maintain your enthusiasm and keep producing valuable content for your audience.
---
Step #2: How to Choose a Perfect Niche for Your Blog?
To become a successful blogger, you must find your perfect niche and work on attaining the highest form of knowledge within that topic. So pick the one that appeals to you—the one you are passionate about and most interested in.
By choosing the niche of interest and having your own point of view, you'll be able to differentiate your personal blog ideas from the competition.
So, how to choose a perfect niche for your blog?
Well, do your market research and make sure it's profitable!
Choosing the perfect niche for your blog can significantly impact its success and your own satisfaction as a blogger.
Here are some steps to help you choose a niche that aligns with your interests, expertise, and potential for audience engagement:
a. Identify your passions and interests

Start by brainstorming topics or subjects that genuinely interest you.

Consider your hobbies, areas of expertise, or anything you enjoy learning and talking about.

Choosing a niche that you are passionate about will keep you motivated and enthusiastic about creating content in the long run.
b. Assess your expertise and knowledge

Determine your level of knowledge and expertise in the topics you've identified.

Reflect on your education, work experience, personal projects, or any specialized skills you possess.

A blog that showcases your expertise will provide valuable and credible information to your audience.
c. Research market demand and competition

Once you have a few potential niches in mind, research the market demand and competition within those niches.

Look for existing blogs, websites, forums, or social media communities related to those topics.

Evaluate the level of competition, the size of the audience, and the engagement they generate.

It's generally better to choose a niche with a decent-sized audience but less competition.
d. Define your target audience

Understand who your target audience will be within the chosen niche.

Consider their demographics, interests, needs, and pain points.

By identifying your audience, you can tailor your content to meet their specific requirements, which will help you build a loyal and engaged readership.
e. Evaluate monetization potential

Assess the monetization potential of your chosen niche.

Research how other bloggers in similar niches monetize their blogs. Are there affiliate programs, sponsored opportunities, or products/services you can create and sell to your audience?

It's important to ensure that your niche has viable options for monetization if your goal is to generate income from your blog.
f. Long-term sustainability

Consider the long-term sustainability of the niche you choose.

Is it a trendy topic that might lose interest over time, or is it something that will continue to be relevant?

Choosing a niche with long-term potential will ensure that your blog remains relevant and valuable to your audience for years to come.
g. Trust your instincts

Ultimately, trust your instincts and choose a niche that excites you and resonates with your personal and professional goals.

Passion and enthusiasm are crucial for creating high-quality content and sustaining your motivation as a blogger.

Remember, it's okay to start small and narrow with your niche and expand gradually as you gain experience and grow your audience.

Stay open to feedback and continuously assess the needs of your audience to refine and adapt your niche over time.
---
Step #3: Choose a Blogging Platform
WordPress.com is frequently regarded as a simpler starting point, particularly for beginners, whereas WordPress.org offers greater autonomy and authority over your website.
Thanks to the proliferation of user-friendly hosting services, even individuals without technical expertise can now easily establish a self-hosted WordPress site.
The comparison between WordPress.com and WordPress.org can be summarized as follows:
WordPress.com:
Hosted platform with limited control and customization options.
Offers free and premium plans with varying features.
Takes care of hosting, security, backups, and software updates.
Suitable for beginners or users who prefer a more hands-off approach.
WordPress.org:
Self-hosted platform with full control and customization options.
Requires finding a web hosting provider and managing your own site.
Offers complete freedom to customize themes, use plugins, and access the website's code.
Provides more flexibility, scalability, and monetization options.
WordPress.com vs WordPress.org: Which One is Right for You? ✅
Choosing between WordPress.com and WordPress.org requires understanding the key differences and considering your specific needs.
WordPress.com provides convenience with its hosted solutions, taking care of hosting, security, backups, and updates. It offers various plans, including a free option, making it suitable for users who value simplicity and don't want to manage technical aspects.
On the other hand, WordPress.org gives you more flexibility by allowing self-hosting. You have full control over your website, including customization options, themes, plugins, and code access. This option requires finding a web hosting provider and managing your site, making it ideal for those who want complete control and customization freedom.
To make the right choice, consider factors such as your budget, customization needs, and technical expertise. Evaluate whether you prefer the convenience and ease of WordPress.com or the flexibility and control provided by WordPress.org.
At a Glance
| Feature | WordPress.com | WordPress.org |
| --- | --- | --- |
| Hosting | Managed hosting included | Self-hosted |
| Cost | Free, paid plans are available | Free to download, paid hosting plans required |
| Control | Limited control | Full control |
| Customization | Limited customization options | Unlimited customization options |
| Monetization | Limited monetization options | Unlimited monetization options |
---
Step #4: Pick a Domain Name
Choosing a domain name for your website is an important decision as it represents your online identity.
Your domain name plays a crucial role in creating a strong online presence and establishing your brand.
It's often the first impression visitors have of your website, so it's essential to choose a domain name that accurately reflects your business, is easy to remember, and aligns with your overall brand strategy.
Here are some tips to help you pick a domain name:
a. Keep it simple and easy to remember

Choose a domain name that is short, simple, and easy to spell. Avoid using complex words, hyphens, or numbers that can confuse visitors.
b. Reflect your brand

Your domain name should align with your brand or business name. It should give visitors an idea of what your website is about.
c. Use keywords

Consider including relevant keywords in your domain name that relate to your business or industry. This can help with search engine optimization (SEO) and make it easier for people to find your website.
d. Choose a suitable domain extension

The domain extension is the part that comes after the dot, such as .com, .org, or .net. While .com is the most popular and widely recognized, you can also consider other extensions that are relevant to your industry or location.
e. Avoid trademark infringement

Make sure your chosen domain name does not violate any existing trademarks. Conduct a thorough search to ensure that you're not infringing on someone else's intellectual property.
f. Make it brandable

A unique and memorable domain name can help your website stand out. Consider creating a brandable name that is distinct and has the potential to become recognizable.
g. Check for availability

Before finalizing your domain name, check if it's available for registration. Many domain registration services provide search tools to check domain availability.
h. Research social media availability

Ensure that the domain name you choose is available across various social media platforms. Consistency in your branding across different channels is important.
i. Consider future expansion

If you plan to expand your business or offerings in the future, choose a domain name that is flexible enough to accommodate that growth.
j. Get feedback

Once you have a few domain name options, seek feedback from friends, colleagues, or your target audience. Their perspectives can provide valuable insights and help you make better decisions.
Please proceed to the next Step #5 to register your domain and Website Hosting.
---
Step #5: Get a Web Hosting Account
I highly recommend BlueHost as a web hosting provider and the focus of this guide. I personally use BlueHost and believe it is an excellent choice for new bloggers. Here are the reasons why:
Free domain registration: BlueHost offers free domain registration, ensuring that you can secure your desired domain name without any extra cost.
30-day money-back guarantee: They provide a 30-day money-back guarantee, allowing you to try their services with confidence. If you're unsatisfied for any reason within the first 30 days, you can request a refund.
Automatic WordPress installation: BlueHost simplifies the process of setting up your blog by offering a free, automatic installation of the WordPress blogging software, which I will guide you through in this tutorial.
Trusted by WordPress: BlueHost has been recommended by WordPress since 2005, which demonstrates its reliability and commitment to supporting WordPress users. They have a long-standing partnership with the platform.
Large user base: With over 2 million hosted blogs and websites, BlueHost has proven itself as a trusted and popular choice among bloggers. Their infrastructure can handle high volumes of traffic, ensuring a reliable hosting experience.
24/7 customer support: BlueHost provides helpful customer support 24/7 via phone or web chat. Their dedicated support team is available to assist you with any inquiries or issues that may arise.
By using any BlueHost link on this site, you can get up to a 73% discount you can take advantage of a special discount price of $2.95 per month.
Click here to get the SPECIAL DISCOUNT | $2.95 per month on BlueHost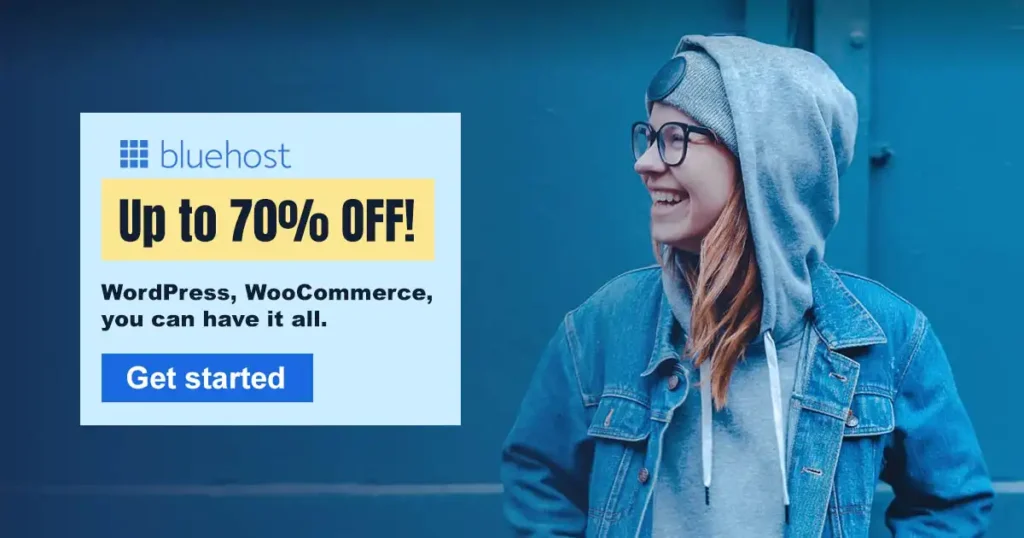 It's worth noting that while BlueHost is a recommended option, it's always beneficial to research and compare different web hosting providers to find the one that best fits your specific needs.
Choose your desired plan. I suggest that new bloggers opt for the basic plan. Click "Select" to make your choice.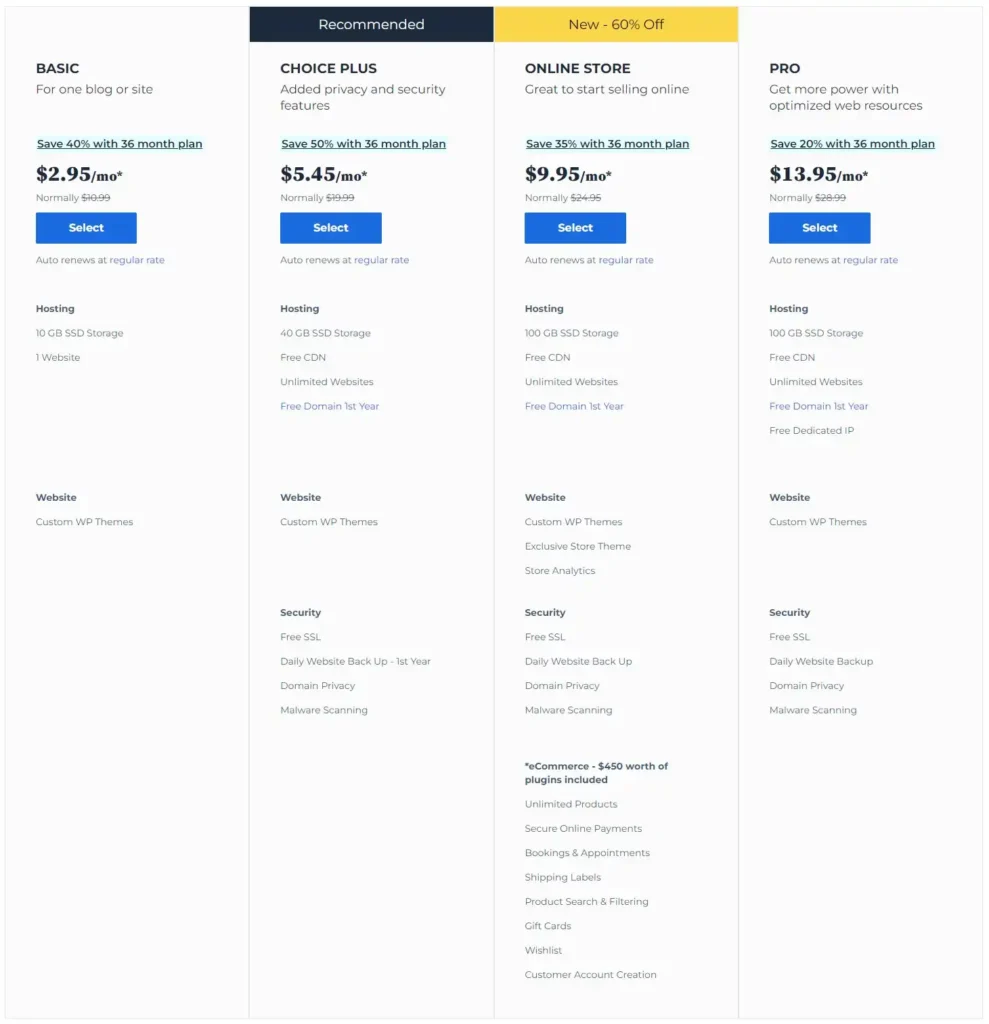 Enter your domain name in the left box and proceed by clicking "next" to initiate the registration process.
If you already own a domain name that you wish to use for your blog, please enter it in the right box. Then click "next" to proceed.
Please note that the right box should only be used if you have previously paid to register a domain.
Enter your account and billing information to complete the registration.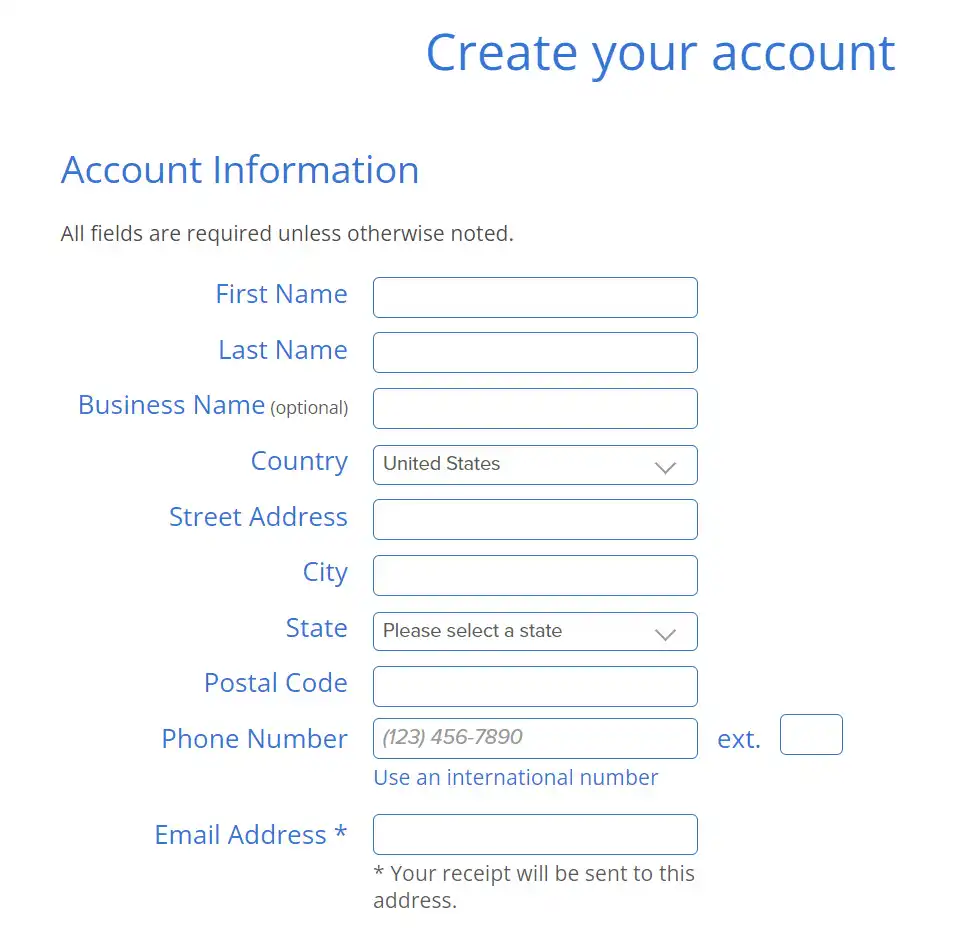 Choosing Your Hosting Package and Options
When selecting your hosting package with BlueHost, you'll have everything necessary to launch your blog successfully.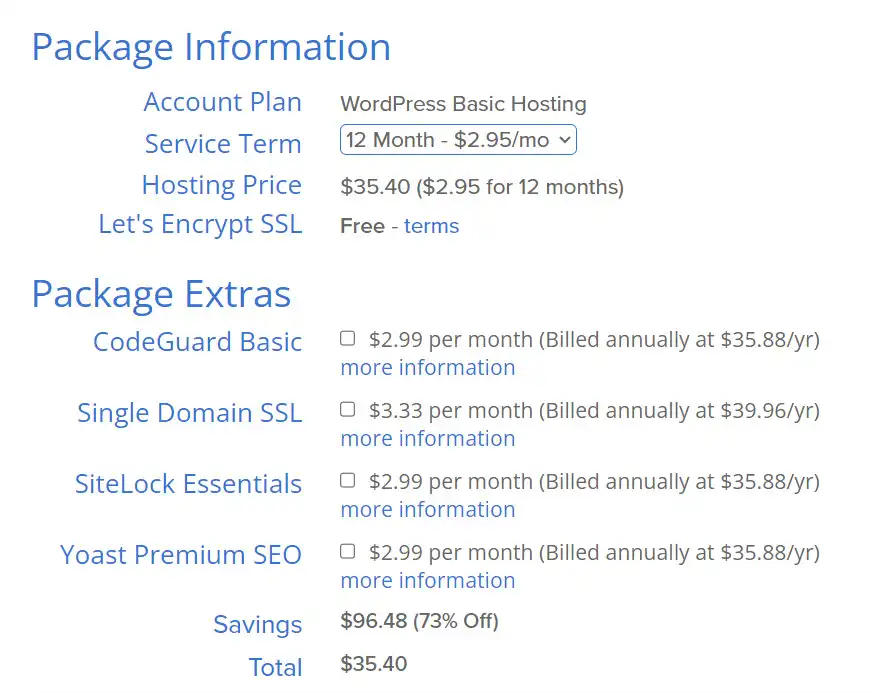 Each account plan offers essential features such as a complimentary custom domain name, effortless WordPress installation, web hosting services, and personalized email addresses (e.g., [email protected]).
During the selection process, I recommend unchecking the boxes next to package extras, except for "Domain Privacy & Protection." While not mandatory, domain privacy ensures that your personal information, including your name, address, phone number, and email, remains hidden from the public database of registered domain owners.
Enter your billing details and submit.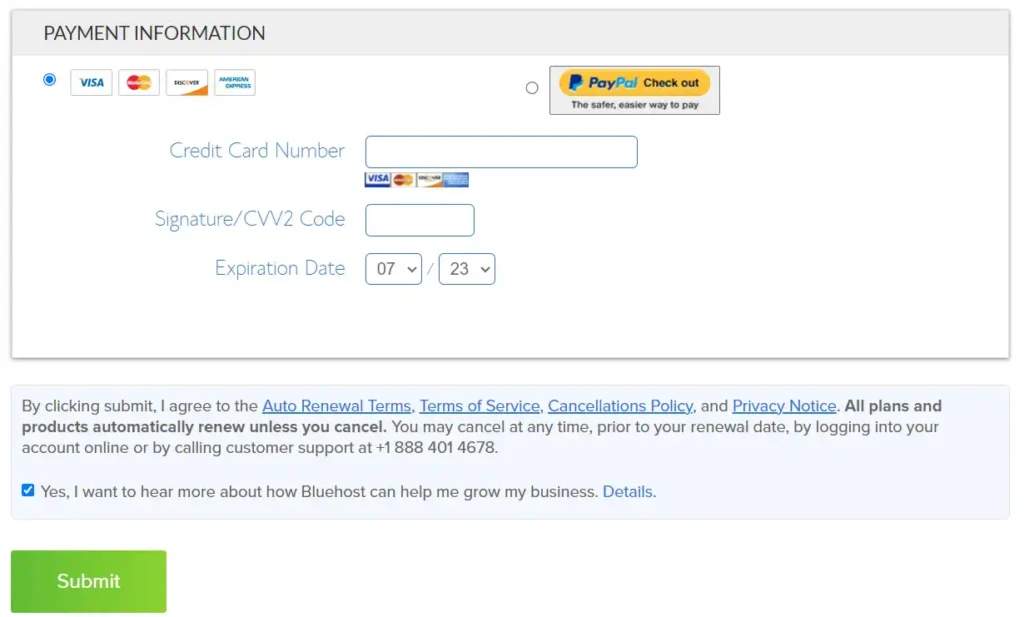 Create your account.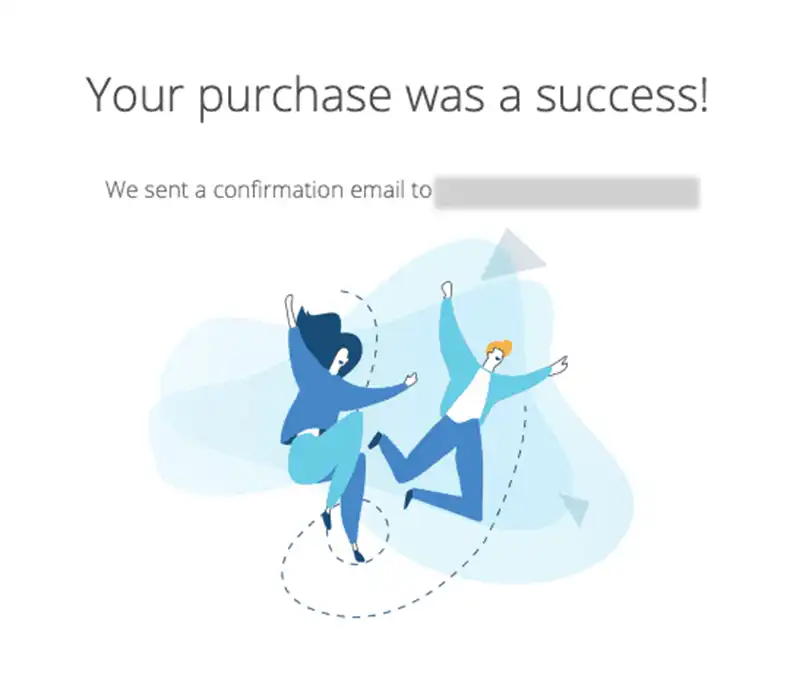 After completing the aforementioned steps, you will be directed to an installation page.
Now, you can simply click "Skip this step" on the following pages to be directly taken to the dashboard.
---
Step #6: Starting a Blog on WordPress 🌐
From the side navigation, click on the "Hosting" tab.

Now, Click Add Site.

Now, you need to select Install WordPress and Click Continue.
Enter the name of your website in the "Site Title" field and click "Continue". If you're unsure what to enter, you can click "Skip for Now".

In the "Enter Domain Name" field, input your domain name. Alternatively, you can select "Use a temporary domain name". Click "Continue" to proceed.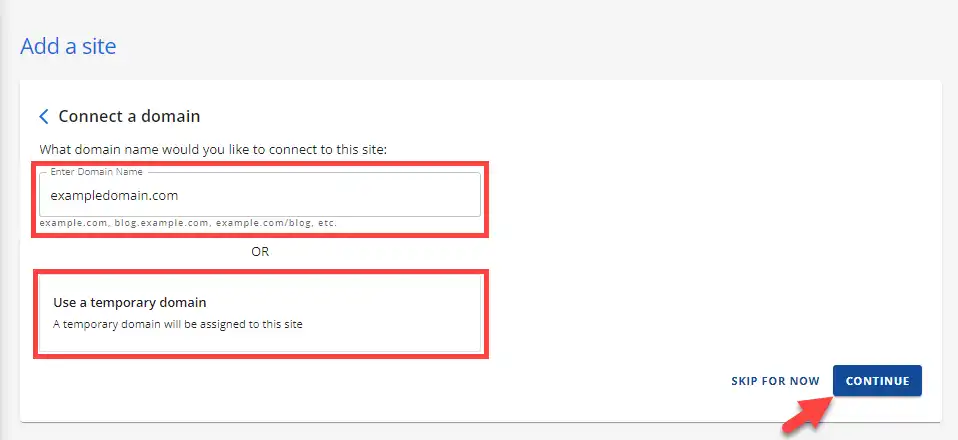 Once completed, the installation process for your WordPress site will begin.

Click on "Log into WordPress" to access your WordPress dashboard.

---
Step #7: Select a WordPress Theme to Design Your Blog 🖼️
There are tonnes of free WordPress themes available online and in the WordPress Theme Repository. However, we will be using StudioPress's Genesis Framework for website design.
The Genesis Framework is a popular and powerful theme framework for WordPress.
It is designed to provide a solid foundation for building websites with WordPress, regardless of your level of expertise.
One of the key advantages of using the Genesis Framework is its focus on security and search engine optimization (SEO).
Genesis follows best practices for coding and security, which helps to ensure that your website is safe and protected against potential vulnerabilities.
Additionally, the framework is built with SEO in mind, helping your website to rank well in search engine results and improving its visibility.
Genesis also offers a range of customizable child themes that allow you to easily modify the design and layout of your website without affecting the underlying framework.
This makes it convenient to create unique and visually appealing websites, whether you're a beginner or an experienced developer.
How to get Genesis Framework?
The Genesis Framework is an open-source WordPress framework that was originally developed by StudioPress. It was released as open source in 2016 and is now freely available to download and use.
Visit StudioPress's official website, and enter your first name, last name, and e-mail id to Get Genesis Framework for Free.
After downloading the Genesis Framework, download the Genesis Sample Theme.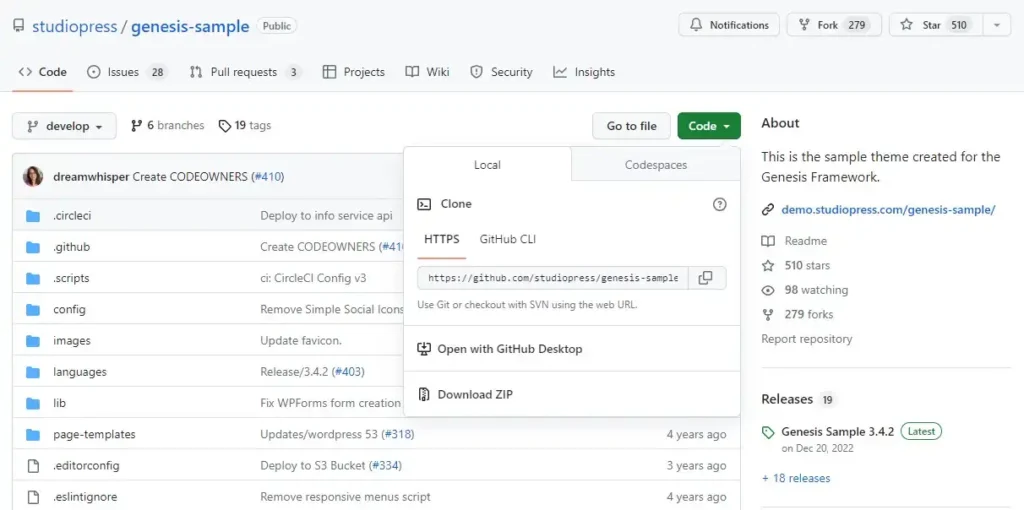 Navigate to the Code button and click Download ZIP.
After downloading the Genesis Framework and Sample Child Theme, log in to your WordPress Dashboard to install the theme.
How to install WordPress Theme?
Installing themes in WordPress is a straightforward process. Here's a step-by-step guide to help you:
Log in to your WordPress admin dashboard. This is usually accessed by adding "/wp-admin" at the end of your domain name (e.g., www.yourdomain.com/wp-admin).
Once logged in, navigate to the "Appearance" section in the left sidebar and click on "Themes." This will take you to the themes management page.
On the themes page, you will see the currently installed themes. To add a new theme, click on the "Add New" button at the top of the page.
You'll be presented with different options to find and install a theme:
a. Featured: This section showcases some of the popular themes chosen by WordPress.
b. Popular: Here, you can find themes that are highly rated and widely used.
c. Latest: This section displays the most recently released themes.
d. Search: If you have a specific theme in mind, you can search for it using keywords.
e. Upload Theme: If you have a theme file downloaded on your computer, you can upload and install it directly.
As we already have a Genesis Framework and Theme, we need to upload this to WordPress.
Click on the "Upload Theme" button. This will open a new section where you can upload the theme file.
You will need to have the theme file in a .zip format. If you have downloaded the theme from a third-party source, make sure it is in the correct format.
Click on the "Choose File" or "Browse" button, depending on your browser, to select the theme file from your computer. Locate the .zip file of the Genesis Framework.

Thereafter, click on the "Install Now" button. WordPress will now upload and install the theme.
Once the installation is complete, you will see a success message. You can then choose to activate the theme immediately but we need to return to the themes management page.
Similarly, install the Genesis Sample Theme.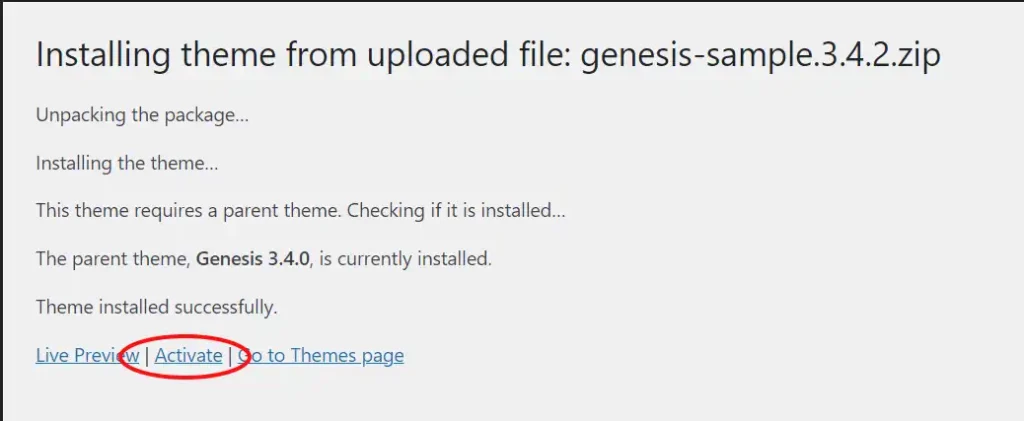 However, this time, we need to activate this child theme. To do that click on the "Activate" button that appears after the installation is complete.
That's it!
You have successfully installed and activated a new theme for your WordPress website.
You can repeat these steps anytime you want to switch to a different theme or add new ones to your collection.
Starter Packs (Pre-Built Layout) in Genesis
Genesis Sample provides a variety of starter packs for you to choose from. Each starter pack is a bundled collection of content and/or plugins that will be seamlessly imported and configured on your behalf.
To explore further details about each starter pack and identify the one that aligns with your requirements, please refer to the images below: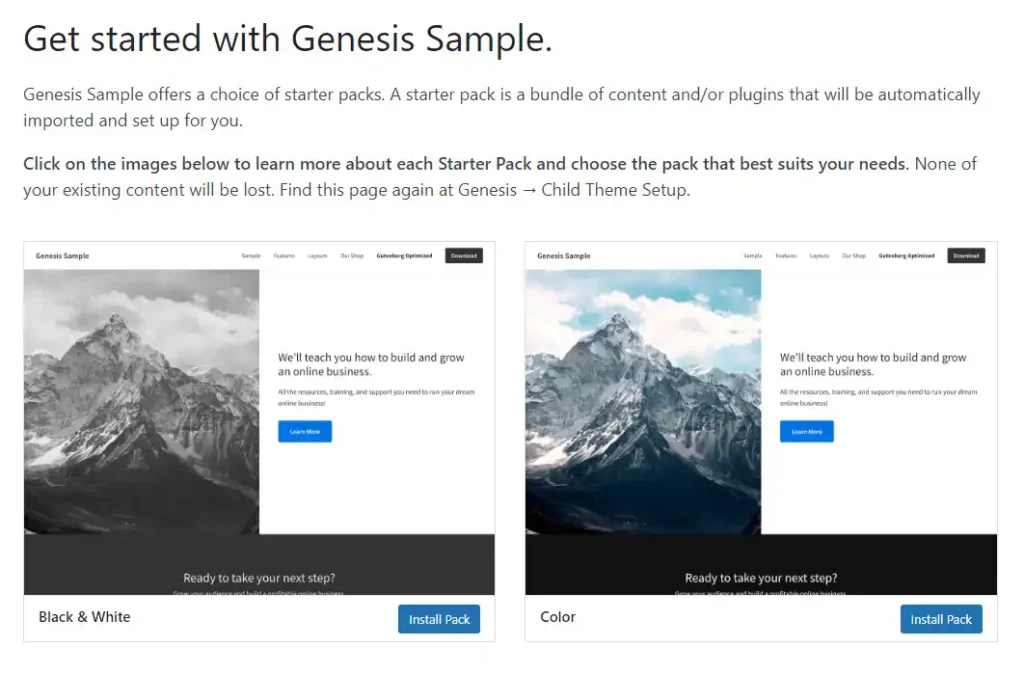 Choose any one of the options by clicking the "Install Pack" and Genesis will install a pre-build layout with essential pages for you.
You can click "VIEW YOUR HOMEPAGE" to check your website's layout.
How to Edit Layout and Change Content?
To edit content using Genesis Blocks, you can follow these steps:
Navigate to the page or post where you want to edit the content.
Click on the "Edit" button to enter the editing mode for that page or post.
Once in the editing mode, you will see the Gutenberg editor interface.
Look for the block that contains the content you want to edit.
Click inside the block to activate it. You will notice that a toolbar appears above or below the block.
Use the toolbar options to make changes to the content within the block. You can format text, add links, change colors, and more, depending on the available options.
If you want to add new blocks or rearrange existing ones, you can do so by using the "Add Block" button or the block handles (the up and down arrows) that appear when you hover over a block.
After you have made the desired changes, remember to save your modifications by clicking on the "Update" or "Publish" button.
To learn more about Genesis Blocks and Genesis Sample Theme setup, visit the official documentation by StudioPress.
---
Step #8: Best WordPress Themes and Frameworks (Optional) 🎨
In addition to the free version of the Genesis Framework, there is also a Genesis Pro version available that offers additional features, functionality, and prebuilt layouts.
The premium version of the Genesis Framework typically includes advanced customization options, extended support, and access to a library of prebuilt layouts.
These prebuilt layouts can be imported and used as a starting point for your website, saving you time and effort in designing and setting up your site.
With the premium version, you get access to exclusive plugins or add-ons that further enhance the capabilities of the Genesis Framework. These additional features can help you extend the functionality of your website and tailor it to your specific needs.
The decision to upgrade to the premium version depends on your requirements and budget. If you need the extra features, extensive layout options, and dedicated support, investing in the pro version may be beneficial for your website development and design process.
Here are some of the best WordPress Frameworks and themes I love and use for website development for my clients.
Hey there! Let's dive into the Genesis Framework WordPress theme. This bad boy is a powerhouse when it comes to building a solid foundation for your website.
Here's what I found:
Pros
Rock-solid performance: Genesis is built with clean code and optimized for speed, ensuring your site loads lightning fast.

Robust security: With Genesis, you can rest easy knowing your website is protected by top-notch security measures.

Extensive customization options: It offers a wide range of child themes and hooks, allowing you to personalize your site to your heart's content.

SEO-friendly: Genesis is built with search engine optimization in mind, giving your site a head start in the rankings.
Cons
Learning curve: Genesis can be a bit daunting for beginners, as it requires some technical knowledge to make the most of its features.

Cost: Genesis is a premium framework, so it comes with a price tag. However, many users find it worth the investment.
Pricing
Ready to build a solid website foundation? Check out the Genesis Framework today!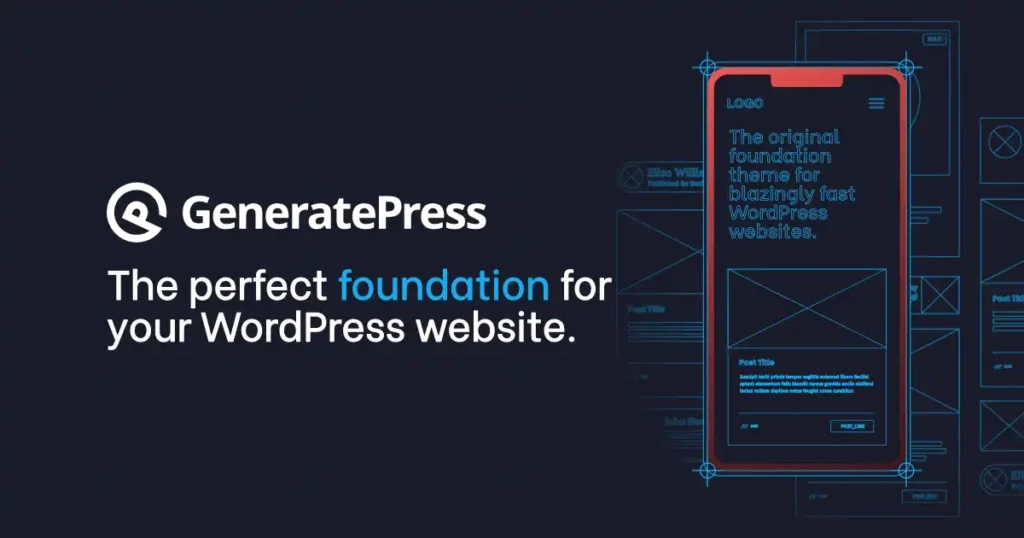 Alrighty, let's talk about GeneratePress, a WordPress theme that aims to provide you with a lightweight and flexible experience. Here's the lowdown:
Pros
Lightning-fast: GeneratePress is known for its exceptional speed, ensuring your website loads in a flash.

Super flexible: It offers a range of customization options, allowing you to tweak every aspect of your site's design.

Mobile-friendly: GeneratePress is fully responsive, meaning your site will look stunning on any device.

SEO-ready: It's built with SEO best practices in mind, giving you a head start in the search engine rankings.
Cons
Limited pre-built designs: While GeneratePress provides a solid foundation, it may lack the extensive pre-built designs offered by other themes.

Advanced features require add-ons: Some advanced features, such as header elements or hooks, require purchasing premium add-ons.
Pricing
GeneratePress offers a free version with limited features. The premium version starts at $59 per year for 500 sites.
Ready to have a flexible and speedy website? Check out GeneratePress today!
Hey, let's talk about Divi, a popular WordPress theme that promises to make website building a breeze. Here's the scoop:
Pros
Intuitive visual builder: Divi comes with a drag-and-drop visual builder that allows you to create stunning designs without touching a line of code.

Endless design possibilities: With Divi's extensive library of pre-built layouts and elements, you'll have no shortage of design options.

Responsive editing: You can fine-tune your site's appearance for different devices, ensuring a seamless experience for all users.

Active community and support: Divi has a large user community and offers reliable support to help you along the way.
Cons
Can be resource-intensive: Due to its powerful features, Divi can sometimes be demanding on server resources, potentially affecting site performance.

Learning curve: While the visual builder is user-friendly, mastering all of Divi's features may take some time and experimentation.

Active community and support: Divi has a large user community and offers reliable support to help you along the way.
Pricing
Divi offers an annual subscription starting at $89 per year or a lifetime option for a one-time fee of $249.
Ready to build visually stunning websites with ease? Check out Divi today!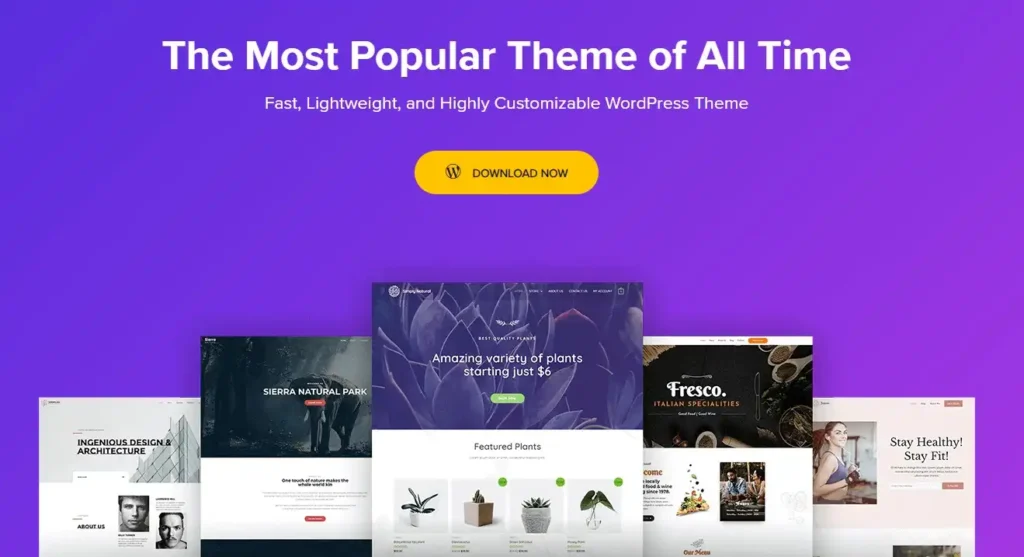 Alrighty, let's chat about Astra, a lightweight and highly customizable WordPress theme that's gaining popularity. Here's the lowdown:
Pros
Lightning-fast performance: Astra is built to be lightweight, ensuring your website loads at warp speed.

Extensive customization options: Astra offers a powerful customization panel that allows you to tweak every aspect of your site's design.

Ready-made starter sites: It provides a library of pre-built websites that you can import with a single click, saving you time and effort.

Seamless integration with page builders: Astra is fully compatible with popular page builders like Elementor and Beaver Builder.
Cons
Limited free version: While Astra has a free version available, many advanced features and customization options are reserved for the pro version.

The steep learning curve for beginners: Astra's customization options can be overwhelming for those new to WordPress or web development.

Some features require add-ons: To access certain features like advanced typography or additional layouts, you may need to purchase add-ons.
Pricing
Astra offers a free version with limited features. The pro version starts at $59 per year for unlimited sites.
Ready to have a lightweight and highly customizable website? Check out Astra today!
---
Step #9: How to Write Awesome Content 📝
Ready to dive into the exciting world of creating awesome blog content?
We're going to explore the ins and outs of crafting captivating articles that will have your readers hooked from start to finish. Whether you're a seasoned blogger or just starting out, we'll cover everything you need to know to write content that shines.
Get ready to unleash your creativity, connect with your audience, and learn the secrets of writing truly exceptional blog posts.
Let's get started on this adventure together!
A. Define your target audience
Before you start writing, clearly understand who your audience is. Research their demographics, interests, and needs. This knowledge will help you tailor your content to their preferences.
B. Choose a captivating topic
Select topics that are relevant, interesting, and valuable to your audience. Consider trending subjects, common questions or problems in your niche, or personal experiences that can resonate with readers.
C. Conduct thorough research
Gather information from credible sources, including books, articles, studies, and reputable websites. This research will provide you with supporting evidence and help you present accurate information to your readers.
D. Plan your structure
Organize your content logically and coherently. Create an outline that includes an introduction, main body paragraphs, and a conclusion. Break down complex ideas into smaller sections to improve readability.
E. Craft a compelling headline
Your headline should be concise, attention-grabbing, and accurately reflect the content. It should entice readers to click and explore further. Use powerful words, numbers, or intriguing statements to make your headline stand out.
F. Write an engaging introduction
Hook your readers from the beginning. Start with a compelling statement, a thought-provoking question, or an anecdote. Clearly state the purpose of the article and convey its relevance to the readers.
G. Create informative and well-structured content
Focus on providing valuable information, actionable tips, or insightful analysis. Use short paragraphs, subheadings, and bullet points to break down the text and improve readability. Incorporate relevant images, graphs, or infographics to enhance visual appeal.
H. Use a conversational tone
Write in a conversational style to establish a connection with your readers. Avoid jargon and complex terminology unless your audience is familiar with it. Use simple language, and explain difficult concepts in an accessible way.
I. Include examples and anecdotes
Incorporate real-life examples, personal experiences, or case studies to illustrate your points and make them relatable. Stories can engage readers and help them better understand the information you're conveying.
J. Include examples and anecdotes
Incorporate real-life examples, personal experiences, or case studies to illustrate your points and make them relatable. Stories can engage readers and help them better understand the information you're conveying.
K. Use visuals and multimedia
Images, videos, and infographics can make your content more appealing and interactive. Visual elements can enhance the reader's experience, support your message, and increase the likelihood of social media sharing.
L. Proofread and edit
Always revise your content before publishing. Check for grammar and spelling errors, sentence structure, and overall clarity.
Proofread your content using Grammarly, the most popular writing tool that helps you check for grammar and improve your writing.
Grammarly stands out as a potent and highly effective writing assistant. For anyone who regularly communicates through the written word, investing in a Grammarly subscription is truly worthwhile.
This exceptional tool not only identifies grammar errors swiftly but also outperforms any other similar tool in this regard.
Additionally, its capability to compose multiple sentences with just a click greatly impressed us.
Undoubtedly, Grammarly has the potential to significantly enhance the writing skills of most users in a relatively short period.
After the grammar check, read your article aloud to ensure it flows smoothly and make any necessary revisions.
M. Optimize for search engines
Consider basic search engine optimization (SEO) techniques to increase your blog's visibility. Use relevant keywords naturally throughout your content, include meta tags, and create descriptive headings and alt tags for images.
N. Encourage engagement
At the end of your article, invite readers to leave comments, ask questions, or share their opinions. Respond to comments promptly to foster a sense of community and encourage ongoing discussion.
O. Analyze and learn from feedback
Monitor analytics to understand which articles perform well and resonate with your audience. Pay attention to comments, social shares, and feedback to gain insights into what works and what can be improved.
Remember, writing great blog content is an ongoing process. Continuously refine your writing skills, stay up to date with industry trends, and adapt your content strategy based on audience feedback and preferences.
Here are 7 professional blog writing tips to enhance your content writing skills
---
Step #10: Optimize Your Blog Content for SEO 🌐🚀
So, you've created an amazing blog and poured your heart and soul into it. Now, you want the world to find and appreciate your hard work.
That's where search engine optimization (SEO) comes into play.
Optimizing your blog content for SEO can make a huge difference in getting your website noticed by search engines and attracting more readers.
So, let's dive in and explore some practical tips on how to optimize your blog content for SEO!
A. Start with Keyword Research
Keywords are the foundation of SEO.
They are the words or phrases people type into search engines when looking for information.
Use keyword research tools like Google Keyword Planner or SEMrush to find relevant keywords related to your blog topic.
Include these keywords naturally throughout your content to improve its visibility in search engine results.
B. Craft Engaging and Relevant Headlines
Your headline is the first impression your blog makes on potential readers.
Make it catchy, descriptive, and include your primary keyword. A compelling headline not only grabs attention but also helps search engines understand what your content is about.
C. Create Quality Content
Producing high-quality, valuable content is crucial for SEO.
Write in-depth articles that provide insightful information to your readers. Google loves fresh and original content, so keep your blog updated with regular posts.
Long-form content tends to perform well in search engine rankings, so aim for comprehensive articles that thoroughly cover your topic.
D. Optimize Meta Tags
Meta tags provide information about your webpage to search engines.
Focus on optimizing two key elements: the meta title and meta description.
The meta title should include your keyword and be compelling enough to entice users to click.
The meta description is a brief summary of your content, so make it engaging and relevant. Both elements should accurately represent your blog post.
E. Utilize Heading Tags
Heading tags (H1, H2, H3, etc.) help search engines understand the structure and hierarchy of your content.
Use them to break up your blog post into sections and include your primary keyword in at least one heading tag.
This practice helps search engines determine the main topics covered in your article.
F. Optimize Image Alt Text
Search engines can't "see" images, so it's essential to optimize the alt text attribute.
Alt text is a short description of the image content. Include relevant keywords in the alt text to improve the chances of your images appearing in image search results.
Additionally, descriptive alt text enhances accessibility for visually impaired users.
G. Build Quality Backlinks
Backlinks are links from other websites that direct users to your blog.
Search engines consider backlinks as a vote of confidence in your content's quality and authority. So backlinks are the most important factor for search engine rankings.
Reach out to other bloggers in your niche and guest post on their websites, or create exceptional content that naturally attracts backlinks.
Building a network of quality backlinks can significantly boost your SEO efforts.
H. Optimize for Mobile Devices
Mobile optimization is no longer optional; it's a necessity. With the majority of internet users browsing on mobile devices, search engines prioritize mobile-friendly websites.
Ensure your blog has a responsive design that adapts to different screen sizes. Mobile-friendly sites provide a better user experience, leading to higher search engine rankings.
I. Improve Page Loading Speed
Site speed is another critical factor for SEO.
A slow-loading website can frustrate users and increase bounce rates.
Optimize your blog's loading speed by compressing images, minifying CSS and JavaScript files, and utilizing caching techniques.
You can use tools like Google PageSpeed Insights to identify areas for improvement.
J. Promote Your Content
SEO isn't just about optimizing your blog; it's also about getting your content in front of the right audience. Share your blog posts on social media, participate in relevant online communities, and engage with your readers.
The more visibility your blog has, the more likely it is to attract organic traffic and gain higher search engine rankings.
Remember, SEO is an ongoing process, and results may not come overnight.
Consistently applying these optimization techniques and staying up-to-date with the latest SEO trends will gradually improve your blog's visibility and organic traffic.
Keep experimenting, analyzing, and refining your approach to achieve long-term success in the competitive world of blogging.
---
Step #11: How Do I Get People to Actually Read It? 📖
So, you've poured your heart and soul into creating amazing content for your blog, but now you're left wondering, "How do I get people to actually read it"?
Well, fret not, because today we're diving into the exciting world of blog promotion.
We'll explore some practical tips and strategies to help you shine a spotlight on your blog and attract those coveted readers. Let's get started!
A. Social Media Magic
Ah, the land of tweets, posts, and likes. Social media platforms are a goldmine for promoting your blog.
Create accounts on popular platforms like Facebook, Twitter, Instagram, and LinkedIn, and share your blog posts with catchy captions and eye-catching visuals.
Engage with your audience, join relevant groups, and watch your blog's visibility soar.
B. Email Love
Build an email list of eager subscribers who can't wait to devour your content.
Send regular newsletters featuring your latest blog posts, exclusive tips, or even some behind-the-scenes goodies.
Make sure your emails are informative, entertaining, and personalized to keep your readers hooked.
C. The SEO Game
The mysterious world of search engine optimization (SEO). Don't worry, it's not as daunting as it sounds.
Research relevant keywords in your niche and naturally sprinkle them throughout your blog posts. Write high-quality, valuable content that addresses your readers' questions and needs.
When search engines love you, readers will too.
D. Guest Blogging Adventures
Ready to expand your horizons?
Reach out to fellow bloggers in your niche and offer to write guest posts for their sites.
It's a win-win situation: you gain exposure to their audience, and they get quality content.
Be sure to follow their guidelines and tailor your guest posts to their readers' interests.
E. The Influencer Effect
Ever heard of the saying "It's not what you know, it's who you know"?
Well, in the blogging world, collaborating with influencers can work wonders.
Connect with influencers or experts in your field and explore opportunities to collaborate.
Interviews, joint projects, or shout-outs can introduce your blog to a whole new crowd.
F. Communities Unite
There's strength in numbers, my friend. Participate in online communities, forums, and discussion boards related to your niche.
Share your expertise, offer valuable advice, and genuinely engage with others.
Be helpful, authentic, and build relationships. Soon enough, people will be flocking to your blog, eager for more of your wisdom.
G. Power of Cross-Promotion
Team up with fellow bloggers or content creators in your niche and embark on a cross-promotion adventure.
Mention each other in your blog posts, collaborate on joint projects, or even co-host webinars or podcasts.
By leveraging each other's audiences, you can reach new readers and forge meaningful connections.
H. Repurpose, Repurpose, Repurpose
Don't let your blog posts sit idle in one format. Repurpose them into different content types to reach a wider audience.
Turn articles into engaging videos, podcasts, infographics, or slideshows. Share these creations on platforms like YouTube, SoundCloud, or SlideShare, and direct viewers back to your blog for more in-depth goodness.
I. Engage and Thrive
Don't be a stranger to your readers. Encourage comments on your blog posts and respond to them promptly.
Foster a sense of community by initiating discussions, asking questions, and showing genuine interest in your readers' thoughts. Engaged readers become loyal fans who eagerly share your content with others.
J. The Power of Paid Advertising
While organic growth is fantastic, sometimes a little boost can go a long way.
Consider investing in paid advertising on platforms like Google Ads or social media ads.
Target specific demographics and interests, and watch your blog's visibility skyrocket.
So, dear newbie blogger, take a deep breath and embrace the adventure of blog promotion.
Remember, consistency is key, and experimentation is your best friend.
Monitor your analytics, adapt your strategies, and don't be afraid to try new promotional tactics.
With passion, dedication, and a sprinkle of promotional magic, your blog will thrive and attract a tribe of enthusiastic readers.
Happy promoting!
---
Step #12: Make Money Blogging 🤑
Making money with a blog can be pretty exciting, and there are a bunch of ways you can do it. Let's dive in and explore some of the popular methods:
A. Advertising
One classic way to make moolah with your blog is through advertising.
You can team up with advertising networks like Google AdSense or AdThrive.
They'll hook you up with ads to display on your blog, and whenever your visitors click on or view those ads, you'll be cashing in!
Check
Ready to uncover the secrets of making money with Google AdSense?
Check out our latest post on "How Much Money Can You Make With Google AdSense" and discover the potential earnings waiting for you.
B. Affiliate Marketing
Now we're talking!
With affiliate marketing, you get to flex your promotion skills.
You'll be recommending products or services on your blog using special tracking links.
When your readers make a purchase through those links, ka-ching! You earn a sweet commission.
Look into joining affiliate networks like Amazon Associates or ShareASale to find cool stuff to promote.
C. Sponsored Posts and Reviews
Wanna get paid for talking about awesome products or services?
Sponsored posts and reviews are where it's at!
You can collaborate with brands and businesses to write about their stuff on your blog.
They'll pay you for the exposure, and you get to share your thoughts with your readers.
Just make sure you let 'em know it's sponsored content, transparency is key!
D. Digital Products
Time to unleash your creative genius!
Create and sell your very own digital products on your blog.
You could whip up amazing e-books, online courses, or even super useful templates.
If you've got expertise in a specific field, package that knowledge into valuable content and watch the money roll in.
E. Membership Sites
Ready to offer some VIP treatment?
Consider setting up a membership area on your blog.
Your readers can pay a subscription fee to access premium content like exclusive articles, videos, or a fancy community forum.
Platforms like Patreon or plugins like MemberPress can be your go-to tools for setting up and managing this awesome feature.
F. Freelance Writing and Services
If you've got mad writing skills, why not monetize 'em?
Showcase your talent on your blog and offer your services as a freelance writer or consultant.
Potential clients who discover your blog might just reach out to hire you for their content creation, copywriting, or consulting needs.
Get ready to unleash your expertise and get paid for it!
G. Sponsored Social Media Posts
Hey, if you're rocking it on social media too, there's even more money to be made!
Collaborate with brands for sponsored posts on platforms like Instagram, YouTube, or Twitter.
You can promote their products or services to your awesome followers and earn some serious dough through those partnerships.
H. Events and Workshops
Time to take your blog to the next level!
Organize and host events, workshops, or webinars related to your blog's niche.
Charge folks a fee to participate and learn from your awesomeness.
If you're feeling extra ambitious, team up with other professionals to host joint events and reach an even bigger audience.
Remember, building a money-making blog takes time, effort, and consistently delivering top-notch content. Focus on providing value to your audience and engaging with them.
The sky's the limit, my friend!
---
Bonus Tips (Essential)
When it comes to obtaining Google AdSense and affiliate network approvals for your website, there are a few essential pages that you must have.
These pages help establish trust, ensure compliance, and provide important information to your visitors. Let's take a look at the must-have pages:
1. About Us
This page introduces your website or blog to your audience. It should provide information about your purpose, mission, and any relevant details that help visitors understand what your site is all about.
2. Contact Us
A contact page is vital for user engagement and credibility. It allows visitors to reach out to you with any questions, concerns, or business inquiries. Include a contact form or your email address to make it easy for people to get in touch.
3. Privacy Policy
This page outlines how you handle user data and privacy on your website. It informs visitors about the types of data you collect, how you use it, and how you protect their information. A privacy policy is essential for compliance with data protection regulations.
4. Terms of Use/Service
This page establishes the terms and conditions that govern the use of your website. It covers rules, restrictions, and guidelines for users regarding content usage, copyrights, and acceptable behavior. It helps protect your rights and provides clarity to visitors.
5. Disclaimer
A disclaimer page is particularly important if your website provides advice, opinions, or deals with sensitive topics. It clarifies the limitations of your content and protects you from potential legal issues by stating that the information provided is for general purposes only and not professional advice.
6. Affiliate Disclosure
If you participate in affiliate marketing programs, it's crucial to have an affiliate disclosure page. This page informs visitors that you may earn a commission from affiliate links or sponsored content on your site. Transparency is key when it comes to disclosing potential conflicts of interest.
Having these pages not only increases your chances of getting approved by Google AdSense and affiliate networks, but they also enhance the user experience, build trust with your audience, and ensure compliance with legal and ethical standards. So, make sure to create these must-have pages for your website to pave the way for successful partnerships and monetization opportunities.
---
Blogging FAQs
Q: What is a blog?

A: A blog is a website or online platform where individuals or businesses can publish their content, typically in chronological order. It allows people to share their thoughts, ideas, experiences, or expertise on various topics.
Q: Why should I start a blog?

A: Starting a blog can be a great way to express yourself, share your knowledge and experiences, connect with like-minded individuals, build an online presence, showcase your expertise, and even make money through various monetization strategies.
Q: What should I blog about?

A: You can blog about almost anything you are passionate about or have expertise in. Some popular blog topics include personal development, travel, food, fashion, technology, parenting, finance, and health. Choose a topic that resonates with you and your target audience.
Q: How often should I publish new blog posts?

A: The frequency of publishing blog posts depends on your availability and the type of content you produce. It's generally recommended to have a consistent publishing schedule, whether it's daily, weekly, or monthly. Quality content is more important than quantity, so focus on creating valuable posts.
Q: How can I attract more readers to my blog?

A: Promote your blog through various channels, such as social media platforms, email newsletters, guest posting on other blogs, participating in online communities, and optimizing your blog for search engines (SEO). Engage with your readers by responding to comments and promoting your content through different marketing strategies.
Q: Can I make money from blogging?

A: Yes, blogging can be monetized in several ways. You can earn money through display advertising (e.g., Google AdSense), sponsored posts, affiliate marketing, selling digital or physical products, offering online courses or consulting services, and more. However, it's important to build an audience and consistently provide valuable content before focusing on monetization.
Q: How long does it take to become successful as a blogger?

A: The time it takes to become a successful blogger varies greatly depending on various factors, such as your niche, the quality of your content, your marketing efforts, and your consistency. Building a successful blog usually requires time, effort, and dedication. It's important to set realistic expectations and focus on long-term growth rather than immediate results.
Q: How can I improve my writing for my blog?

A: Practice regularly, read other blogs and books to expand your vocabulary and writing style, proofread and edit your posts thoroughly, and seek feedback from others. Additionally, develop a clear and engaging writing voice, use headings and subheadings to structure your content, and make your posts visually appealing with images or multimedia elements.
Q: Can I use images from the internet on my blog?

A: It's important to use images that are properly licensed and attributed to their respective owners. You can find royalty-free images on websites like Unsplash, Pixabay, and Pexels, or you can purchase stock photos from platforms like Shutterstock or Adobe Stock. Alternatively, you can create your own images or use graphic design tools to customize visuals for your blog.
Q: What is the ideal length for a blog post?

A: There is no set ideal length for a blog post, as it depends on the topic and the depth of information you want to provide. However, a typical blog post ranges from 500 to 2,000 words.
Q: How can I come up with new blog post ideas?

A: Generate ideas by brainstorming, researching trending topics, listening to your audience's questions and feedback, exploring social media platforms, reading industry news, and analyzing keyword research.
Q: Should I focus on evergreen content or current trends?

A: It's beneficial to have a mix of both evergreen content (timeless and always relevant) and current trend-based content. Evergreen content provides long-term value, while trend-based content can attract immediate traffic.
Q: How important is SEO for my blog?

A: SEO (Search Engine Optimization) is crucial for improving your blog's visibility in search engine results. Optimizing your content with relevant keywords, meta tags, headings, and quality backlinks can help attract organic traffic to your blog.
Q: Can I use content from other sources on my blog?

A: It's essential to respect copyright laws and avoid plagiarism. Instead, focus on creating unique and original content. If you quote or reference other sources, always provide proper attribution and link back to the original content.
Q: How can I engage with my blog readers?

A: Encourage comments on your blog posts, respond to comments promptly, ask questions to spark discussions, conduct polls or surveys, and actively participate in relevant online communities and forums.
Q: How do I handle negative comments on my blog?

A: Respond to negative comments politely and professionally. Address concerns or criticisms constructively, and avoid engaging in heated arguments. If necessary, you can moderate comments or establish a commenting policy.
Q: Can I collaborate with other bloggers?

A: Collaborating with other bloggers can be beneficial for both parties. You can collaborate through guest posting, co-authoring content, hosting joint webinars or podcasts, or engaging in cross-promotion activities to expand your reach.
Q: Can I blog while having a full-time job?

A: Blogging can be pursued alongside a full-time job. Plan your time effectively, create a content calendar, and dedicate specific time slots for writing, editing, and promoting your blog posts.
Q: How can I track my blog's performance?

A: Utilize analytics tools like Google Analytics to track important metrics such as website traffic, page views, bounce rate, user engagement, and conversions. This data will help you understand your audience and make informed decisions to improve your blog.
Q: How can I stay motivated as a blogger?

A: Set realistic goals, celebrate small milestones, seek inspiration from other successful bloggers, join blogging communities for support, engage with your audience for feedback, and take breaks when needed to avoid burnout.
Q: Can I blog anonymously?

A: Yes, you can choose to blog anonymously if you prefer to keep your identity private. However, consider the potential limitations in establishing personal connections and building trust with your audience.
Q: How do I protect my blog from hackers and security threats?

A: Take precautions by using strong passwords, keeping your blogging platform and plugins/themes up to date, installing security plugins, regularly backing up your blog's data, and implementing SSL certificates for secure connections.

Read: 15 WordPress Security Tips: Prevent WordPress XMLRPC Attacks
Disclosure: This guide to how to start a blog contains some affiliate links. If you purchase any service through one of these links I may earn a small commission, this is at no extra cost to you.